Scotland's largest city, with a population of some 600,000, Glasgow is not particularly well known as a tourist destination, which just goes to prove its status as one of Europe's hidden treasures. Glasgow actually has all the things required to attract tourists from all over the world. But what does it have in particular? A quick guide to one of Europe's cities of culture.
Visiting Glasgow has never been easier
With its airport located just six miles outside the city centre and its efficient bus network, Glasgow is very well served by public transport, and it doesn't take long at all to get pretty much anywhere you want to go. Additionally, the city is laid out like a grid, making it very easy to get your bearings (in case you're worried about getting lost while there).
Youth hostels, hotels, homestays – everything is in place to ensure your stay in Glasgow is easy to organise and to help you explore the city without spending an expensive amount of money.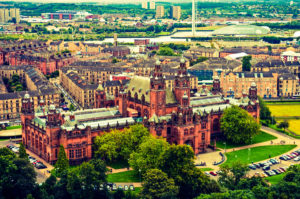 Visit Glasgow, capital of culture
The city always has a huge range of different-themed cultural events (i.e. concerts, exhibitions, etc.) taking place in any given week. The aim is to ensure there's something available to suit all tastes and nobody is left feeling disappointed. And in addition, the city also has many other activities to offer too! This makes it very unusual amongst the capitals and largest cities of Europe. There is clearly a desire to make visiting Glasgow an unforgettable experience for tourists, and this benefits the city immensely.
The top five essential places to see on a two-day visit are:
1. St Mungo's (the sole Catholic cathedral)
2. The City Chambers (architecturally Gothic in style, with Italian Renaissance touches)
3. People's Palace (a former factory converted into a museum with attached "Winter Gardens" conservatory)
4. The Lighthouse (with its tower accessed by a steep spiral staircase and offering views out across the whole city)
5. The Hunterian Museum and Art Gallery (with a wonderful collection that will leave you feeling simply transported)
And finally, there are all the various castles, lochs and distilleries, free for you to organise trips to at your own leisure during your stay in Glasgow.
Glasgow, a uniquely different place to visit
Glasgow was the first European city to develop a culture-based economic model by converting abandoned industrial areas into centres of local heritage. This makes a visit to Glasgow a unique experience, with the city offering a genuine sense and feel of cultural transformation that marks it out from other European tourist cities.
So visit Glasgow and spend an unforgettable weekend exploring the city's uniquely unusual attractions and getting to know a destination which is sure to become a very popular place to visit amongst our fellow Europeans before very long.